About Canfor
In 2015, Canfor acquired Anthony Forest Products Company, further strengthening its already growing presence in the US South.
Canfor is one of the world's largest producers of sustainable lumber, pulp and paper, and is also a North American leader in green energy production. We are proud to offer dimension lumber, engineered wood products and specialty lumber to our global customers. Canfor has built its reputation on the quality of our products, the reliability of our supply and our superior customer service.
About Anthony Forest Products Company, LLC
Canfor and Anthony Forest Products Company were both founded by enterprising businessmen and have strong connections to customers, suppliers and communities. Canfor got its start with one small mill near Vancouver, Canada, in 1938. Anthony Forest Products was started by Frank Anthony with his nine sons and daughters in 1916.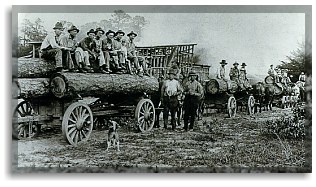 Frank Anthony and Willie Anthony pictured above.
The photo on the right, taken in 1923 in Nevada County, shows two of the five brothers, Frank Anthony and Willie Anthony. The company then was Anthony Brothers Lumber Company.
Anthony Forest Products Company has a tradition of excellence. Canfor chose to buy Anthony Forest Products Company because of its strong reputation for quality, efficiency, excellent customer service, proud history, and most importantly, its great employees and strong leaders.
This partnership brings exceptional value to Canfor's growing U.S. presence by adding engineered wood products to our product mix and strengthening our ability to serve our customers.
The company manufactures and markets engineered wood products under the Power Products® brand. Our Power Products® are manufactured with superior strength southern yellow pine machine stress rated lumber. All lumber is sourced internally from Canfor's southern pine mills located throughout the Southeast United States. This vertical integration provides our EWP plants with a consistent supply of high grade material, allowing them to produce quality products in an efficient, cost effective manner to our stocking distribution network throughout the United States.
The company owns and operates engineered wood products plants in El Dorado, Arkansas and Washington, Georgia.