Anthony Forest Products, since 1916.
About Canfor
In 2015, Canfor acquired Anthony Forest Products Company, further strengthening its already growing presence in the US South.
Canfor is one of the world's largest producers of sustainable lumber, pulp and paper, and is also a North American leader in green energy production. We are proud to offer dimension lumber, engineered wood products and specialty lumber to our global customers. Canfor has built its reputation on the quality of our products, the reliability of our supply and our superior customer service.
Anthony Forest Products Company
Anthony Forest Products Company, headquartered in El Dorado, Arkansas, has made some dramatic changes to position itself for the twenty-first century. The generations of forest products experience passed down through the family have made this vision possible.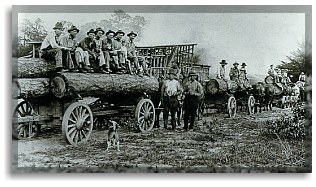 Frank Anthony and Willie Anthony pictured above.
The photo on the right, taken in 1923 in Nevada County, shows two of the five brothers, Frank Anthony and Willie Anthony. The company then was Anthony Brothers Lumber Company. The name of the company has changed over the years but the 4th generation of the Anthony Family continues to play a key role in the company's operations.
The company operates a southern pine lumber producing mill in Urbana, Arkansas and operates an engineered wood laminating plant in El Dorado, a laminating plant in Washington, Georgia, and a joint venture I-Joist plant, ANTHONY EACOM, INC., in Sault Ste. Marie, Ontario, Canada.
The company's sawmill and the El Dorado laminating plant have undergone massive modernization phases over the years. Due to complete computer optimization, the sawmill is now producing 30% more lumber out of the same size logs milled previously.
Not only has the El Dorado sawmill diversified with changing markets, the company's laminating plants have diversified and have expanded to meet customer demands. Some of the company's fastest growth has been in the engineered wood products sector. The demand for engineered wood products like I-Joist forced a need to totally modernize the El Dorado facility and to add an I-Joist plant in Canada.
The company joined forces with EACOM Timber Corporation of Montreal, Quebec, Canada to produce the Power Joist®. The Power Joist® is a high-quality solid-sawn lumber flange I-Joist. Anthony Forest has contributed its superior customer service, plant management, engineered wood products knowledge, and distribution network to meet demands for an I-Joist to complement the Power Beam® I-Joist compatible glulam.
When the company grows, the surrounding communities also grow. We encourage and support our employees' community involvement. In Union County, Arkansas, we employ over 180 persons. Anthony Forest feels that civic mindedness will assist in the overall growth of the company and in the prosperity of the communities in which we reside.